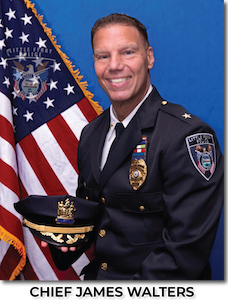 I am honored to be the Chief of Police and lead the talented organization of dedicated employees of the Little Ferry Police Department. The L.F.P.D. is a service oriented police agency that strives to provide the safest environment for its community, and anyone who finds themselves visiting or traveling through the Borough.
As a department we remain committed to reducing crime and enhancing quality of life through an active partnership with the community. With the support and cooperation of the Mayor and Council, the Little Ferry Police Department strives to provide the most proficient and outstanding law enforcement services possible. Our department is committed to providing exceptional police services that deters and reduces crime, brings offenders to justice, protects citizens and their property, controls traffic, and provides a comfortable and safe atmosphere for anyone within the Boroughs limits. Our department strives to keep pace with new advances, practices and tactics in law enforcement application, and trains officers on a continuing basis to attain this.
I am proud of our officers and all police department personnel, not only for their knowledge and abilities, but for the commitment they show to the residents and community.
Our objective of keeping your family safe, in a peaceful community that values every person, is a result of the hard work and dedication of every member of the Little Ferry Police Department.
We are proud to serve this great community and will continue on improving our relations with our residents. Please do not hesitate to reach out to me with a request, question or just to say hello. Please make sure you sign up for all "Emergency Alerts" just go to https://www.smart911.com/smart911/ref/reg.action?pa=littleferrypd to register.
I can be reached at 201-641-2770 or This email address is being protected from spambots. You need JavaScript enabled to view it.
Sincerely,
Chief James Walters